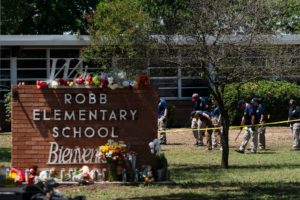 (RNS) — San Antonio Archbishop Gustavo García-Siller was driving back to Uvalde, Texas, on Wednesday morning (May 25) — after having spent most of the previous night there accompanying families in the wake of one of the deadliest school shootings — when he passed by an advertisement promoting guns in the Lone Star State.
"We want children and young people to think differently and the common element to all these situations having happened lately in Buffalo, New York, El Paso and Houston, Texas … the common element is guns, lack of control," García-Siller told Religion News Service as he was en route to Uvalde.
He condemned gun culture, saying guns are treated as idols and a source of pride among people who may feel like "I am powerful with a gun."
"We don't want to give up what that means money-wise, business-wise," he added.
García-Siller said people can't be "pro-life" and continue to support laws that allow these kind of shootings to happen. He said a "corrupted political system for years has undermined human beings."
"If our ethics are not consistent with respecting human life, period, no matter color, language, religion, profession, way of life — life is life — then we are not pro-life," he said.
Nineteen children and two teachers were killed Tuesday after an 18-year-old gunman stormed into Robb Elementary School in Uvalde, a small, predominantly Latino city of about 16,000 residents. The city sits about 80 miles west of San Antonio. About 1 in 5 residents live in poverty.
"What happened yesterday is one more expression of how we leaders have failed," García-Siller said.
"I have been many years in the United States and I have been working a lot with immigrants and in very impoverished communities, and it's just, what else? What else can help us realize that we are people, period," he added.
After the shooting, García-Siller visited Uvalde Memorial Hospital, where many of the shooting victims were taken Tuesday, and he led Mass at Sacred Heart Catholic Church in Uvalde that evening. He planned to spend the day in Uvalde again on Wednesday.
García-Siller has met with the husband of one of the teachers killed in the shooting. The archbishop also spoke with a person who called 911 to report the shooting and referenced a woman who drove children to the hospital from the school. "We don't need heroes. We need just people of goodwill," he said.
While there was a lot of uncertainty on Tuesday as parents awaited news of their children, now there's a "piercing pain" knowing the outcome, García-Siller said.
Throughout Texas, a number of houses of worship are holding services and prayer vigils to help the community cope with the aftermath.
St. Ann Catholic Church in La Vernia, Texas, is hosting a Mass Wednesday evening in honor of the victims and families of the shooting.
First Baptist Church of Brackettville is hosting a candlelight prayer vigil Wednesday evening. The Rev. Y.J. Jimenez, the pastor there, accompanied parishioners at the hospital who lost their grandchild in the shooting.
Getty Street Church of Christ in Uvalde is also holding a prayer vigil Wednesday for the surrounding community.
And in Houston, religious leaders are planning an interfaith gathering outside the National Rifle Association's annual convention this Friday.
Megan Hansen, an elder in the Presbyterian Church, and the Rev. Teresa Kim Pecinovsky, a Disciples of Christ pastor and chaplain in Houston, learned about the convention in the aftermath of the Uvalde massacre and felt called to act.
Pecinovsky said those who support the NRA and the gun lobbying industry "are very much rooted in their own religious perspective."
"It's important for us as clergy and people of faith to say that is not the only perspective of people with a faith view," she said.
Living in Texas, Hansen said, "we're surrounded by so much of this 'God and guns' thought."
"I'm not even going to call it theology, because I don't understand how you could think about the divine, and not just in Christianity, but many ways that people considered the creation of the world and the Creator and be able to reconcile that with owning a weapon," Hansen said.
Added Hansen: "This is very much a Christian problem. Which is one reason we want to be witnesses in this, walking with our other faith communities, because it is our problem. It's coming from inside our house. "