Video Courtesy of March of Dimes
---
Originally published by The 19th
Katherine Davila has been struggling to feed her family since March, when she lost her job as a preschool teacher.
So Davila, a 46-year-old single mother in Fort Lauderdale, has cut spending — no recreation, no extra clothes — everywhere she could. For food, she relies on donations from her local church and from charitable organizations. That means she isn't always able to give her two kids — who have switched to remote learning — the snacks they're used to having. When there still isn't enough food for her and her kids, she serves herself less. It's what any mother would do, she says.
"As a mother, you would just stop consuming as much food," Davila said through a translator. "You would be eating less, so the kids would have bigger portions."
Because Davila's kids are in remote school, she has to stay home with them; it's impossible to go find work. She has applied for benefits through the Supplemental Nutrition Assistance Program (SNAP), but so far she hasn't been approved. Since she can't drive, she has gotten food delivered to her house from local food aid programs, which she shares with a neighbor who is facing similar strains.
Still, she said, it's not enough.
Due to disastrous, pandemic-induced economic fallout, families across the country are under historic levels of financial strain. It's exacerbating what was already a stark hunger disparity: Food insecurity, the inability to consistently access healthy food, is skyrocketing, but women — and especially mothers — are carrying much of the burden.
"Women are getting hammered," said Diane Schanzenbach, an economist at Northwestern University who studies child poverty. "It's bad. It's really bad."
In Washington, D.C., the chances of a big federal relief bill appear tenuous at best. On top of that, multiple pandemic unemployment benefits are set to expire December 26 unless they are reauthorized by Congress. Experts say 12 million people could lose benefits as a result.
"The kind of federal relief people were relying on has expired, and not been renewed," said Michelle Nunn, the CEO of CARE USA, the domestic branch of international humanitarian group CARE International. "As the virus continues to extend its reach, and we are now threatened with further shutdowns, obviously the folks most impacted are those who are already living on the economic margins. That is taking a particular toll on women."
CARE focuses on international hunger issues. But this year, Nunn said, the organization has for the first time since its 1945 founding begun providing food aid in the United States as well.
Typically, researchers don't break down food insecurity studies by gender. But experts agree that, since women are more likely to be caring for children, they are already more vulnerable to experience food insecurity. That gap is now amplified in an economic turndown that has disproportionately penalized women, especially women of color.
"The story is more about presence of children than about gender per se, and more women live with kids," Schanzenbach said.
What little data exists is revealing: Public data analyzed by Schanzenbach's team showed that more than one in four women with children reported experiencing food insecurity. When families don't have enough food, experts say, mothers are the most likely to suffer. Like Davila, they often skip meals or eat less to shield their children.
The Brookings Institution, one of the few organizations to specifically look at mothers, found that in October and early November, 16 percent of mothers with one school-aged child didn't have enough to feed their child. About one in 10 mothers with kids younger than 5 were in the same boat.
"The fact that 10 percent of mothers who only have kids below school age — their kids aren't getting enough to eat — is horrible. It's urgent," said Lauren Bauer, an economics fellow at Brookings who conducted the research.
Denying children regular access to food has lifelong consequences, including development issues and chronic disease. And, Bauer added, the numbers underscore a larger unseen crisis: Many mothers still can afford to feed their kids, but don't have enough for themselves.
Data on food insecurity among families shows dramatic racial gaps exist, with Black and Latinx families suffering in higher numbers. That means Black and Latina mothers are likely suffering the most, experts said. It's almost a secondary pandemic, said Caron Gremont, the early childhood director at No Kid Hungry.
And single mothers are distinctly vulnerable. Even before COVID, households headed by one woman were more likely to experience food insecurity than any other family structure, according to the U.S. Department of Agriculture. Now, the gap is expected to have grown, since single mothers have lost work at higher rates than many other demographic groups. About a quarter of households with children are headed by single mothers, according to the U.S. Census Bureau.
The surge is clear at Bread for the City, a Washington, D.C., service organization that provides food, medical care, legal advice and other social support to low-income residents. Before the pandemic, the organization fed maybe 5,000 people a month. Now, it feeds that many families a week.
The influx is largely driven by Black mothers, especially those raising children on their own, said Lina Permut, the organization's associate director of development.
"When we talk about communities that are marginalized, that don't have access to resources, we're often talking about folks of color — and in particular, women of color and women who are often left raising children on their own, on incomes that are already less than the median," she said. "We have seen an uptick in the amount of families and the amount of Black women in particular who have needed access to our services."
The worst, experts worry, is yet to come.
Women have seen a slower economic recovery than men, and any future lockdown — which seems increasingly likely, as COVID-19 cases surge again — would likely imperil jobs in hospitality, retail and service industries, which all disproportionately employ women. Climbing cases mean more school districts are abandoning in-person learning entirely — New York City, the nation's largest public school district, closed in-person learning only last week — and the trend is likely to continue this winter. That will also deprive many families of a key source of breakfast and lunch.
"The people who have been easily hardest hit, not only by the labor market contractions, but also the costs of having school closures, are single mothers," Bauer said.
Many districts have set up meal pick-up sites for families who would normally qualify for school breakfast and lunch. But, Bauer said, "If you're a single mom working a few jobs, how are you supposed to pick up those meals? It's unreasonable."
Blanca Collaguazo, who lives in Queens, New York, is already struggling to feed her two children — one who is 18 and the other is 10. She cuts back on her own food, and the hunger often causes her stomach pains.
Collaguazo, who cleans homes, is currently able to find work. But she's worried that will get more difficult, especially if cases keep climbing in New York. She's cutting back on expenses, including clothes for her younger daughter. And now, with the prospect of the city's public schools going remote, she's bracing for things to get even worse.
"It's too much stress," she said. "I'm worried."
Robin Safley, the CEO of Feeding Florida, the state's food bank network, isn't sure the organizations like hers will be able to keep meeting demand.
In typical non-hurricane weather, she said, the network distributes 5.5 million pounds of food per week. Right now, she estimates that number is up to 9 or 10 million. And she knows things will get worse, especially if a shutdown puts more women out of work.
"The charitable arm will not stabilize these families," Safely said. "We are holding them together."
Even then, there are gaps, said Dian Alarcón, a field coordinator in Florida with the National Latina Institute for Reproductive Justice. She's been working around the clock to help women — who often don't speak English or don't have a car — access food.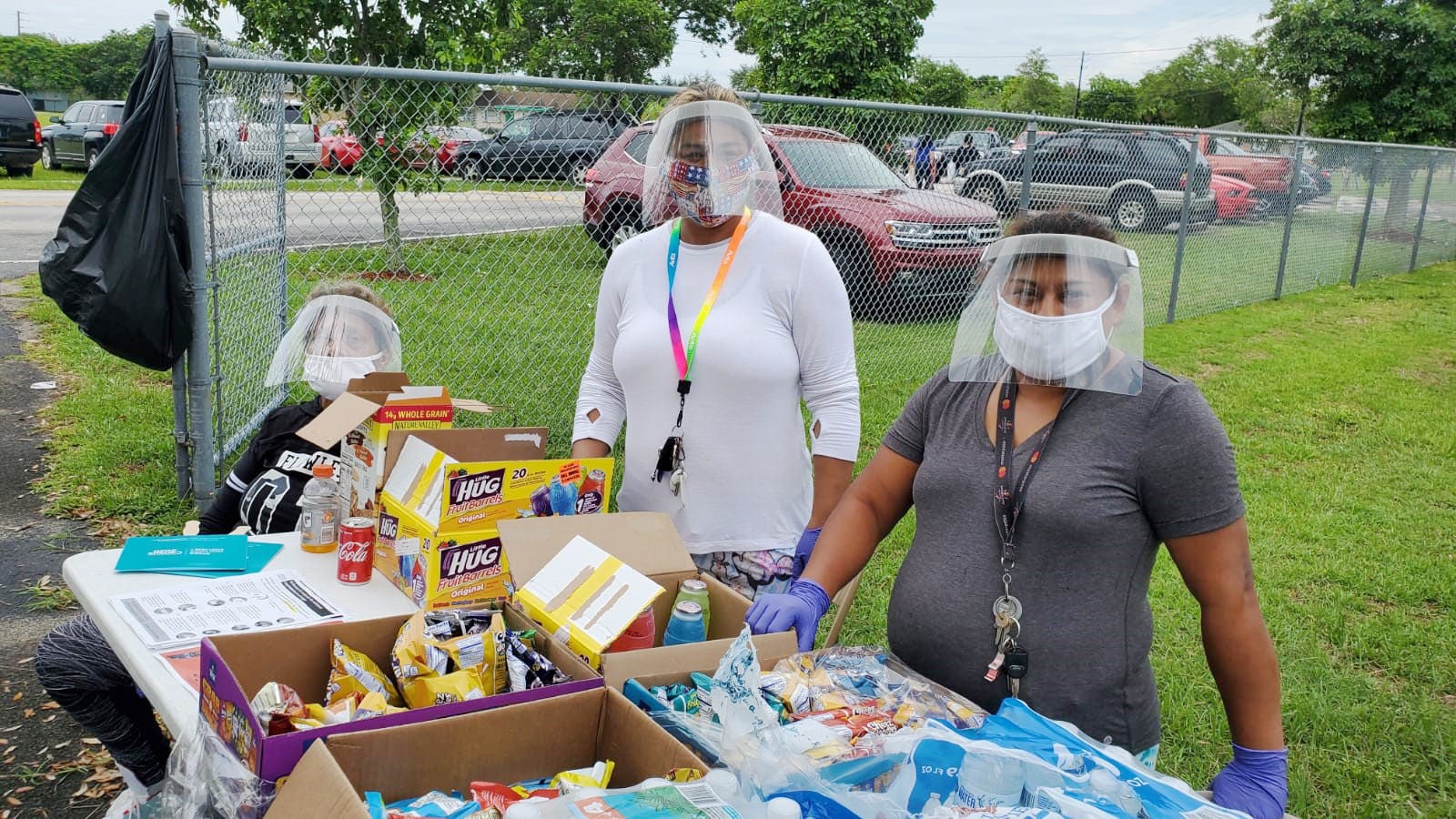 But the food banks are often too far away, or have groceries the women aren't used to cooking with. And the food banks' charitable packages, which are delivered to families unable to travel, have gotten smaller since the pandemic began, she said. There isn't enough protein, or the vegetables inside have already spoiled. She worries especially about the mothers who aren't able to get food they need.
"Young mothers have been the hardest hit in this pandemic in our community," she said through a translator. "Young mothers and pregnant women who don't have access to the nutrition they need."
The government has put some resources in place, such as introducing a special pandemic program, which gives SNAP recipients more money to account for meals a child might get through school. But economists and food bank coordinators said that without more federal relief — in particular, substantially enhancing benefits from programs like SNAP — the safety net alone won't be able to meet the growing need. (Bauer and Schanzenbach both argued for a 15 percent boost in SNAP benefits, which was included in the House-passed Heroes Act but remains stalled in the Senate.)
If that help doesn't come, said Leonard Edwards, who delivers meals for Bread for the City, he doesn't see how organizations like his can make it through this winter.
"The federal government needs to step in and do their damn jobs. People are hurting, and people need that money," he said. "If people don't get help soon, nonprofits are going to run out of food."