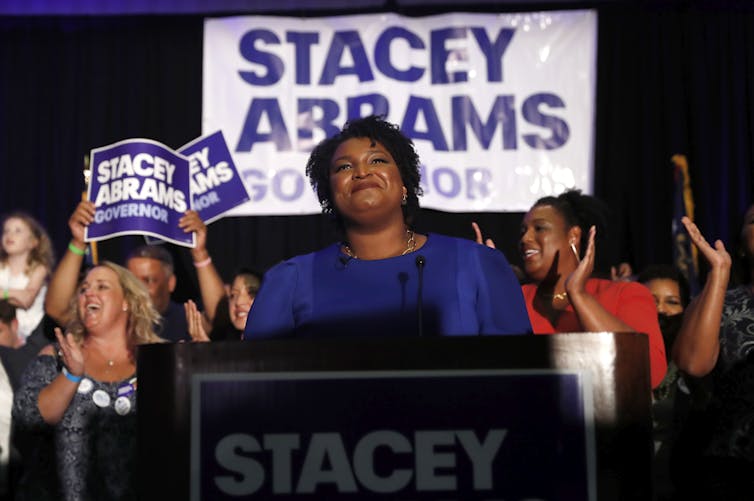 Last May, Stacey Abrams, an African-American, 44-year-old former attorney, Georgia General Assembly House minority leader and Yale Law graduate beat former attorney white Georgia state legislator Stacey Evans in the Georgia Democratic gubernatorial primary. While the race was hard-fought, the outcome was lopsided with Abrams winning 423,163 (76.5 percent) votes over Evans' 130,234.
As a professor of political science and African-American studies, I was very interested in this election's outcome. Although African-Americans and women participate frequently in the political process, few people from these groups win elections – especially at the statewide level.
Although Georgia is known for infamous, segregationist governors like Lester Maddox, this campaign which pitted a white woman against a black woman was largely absent of overt racial appeals. The campaigns of both women appealed to liberals and moderates. Evans' campaign strategy heavily focused on building a coalition among African-Americans, Latinos, women, youth and other progressives by emphasizing issues such as educational and job opportunities, voting rights and an end to crime.
Abrams campaign platform was remarkably similar, but she also emphasized the need for LGBTQ rights, energy jobs, veterans' rights and small business development. Abrams benefited from the "linked fate" philosophy among African-Americans that influences them to prefer black candidates because of their interests in advancing their individual and group interests. She also had more experience registering voters than Evans did, after having served as the director of the New Georgia Project that registered thousands of black, Latino and Asian-American Georgia residents who usually don't vote.
History in the making?
This "battle of the two Staceys" was historic because two women competed as major contenders in a Georgia gubernatorial primary for the first time in its history.
Abrams becomes the first female nominee and the first black nominee of a major party for a Georgia governor's race. If she wins in November, her victory will add to the small number of women who have served as state governors, the even smaller number of African-Americans, and she will become the first black female governor of any American state.
There have only been four black governors in American history. In 1872, Pinckney Benton Stewart Pinchback, a Republican, served as Louisiana governor for 34 days while incumbent governor, Henry Warmoth, faced impeachment.
The other African-American governors were Democrats. More than 100 years after Pinchback served, Virginia Gov. L. Douglas Wilder became the first black elected governor of a state in 1989 and served for one term. The others were Deval Patrick of Massachusetts and David Paterson of New York.
Nearly half of American states have never had a female governor. Forty-six women are running for governor this year, which is much more than the previous record of 34 female gubernatorial candidates in 1994.
Black girl magic
So, what does Abrams need to do to win?
First, she needs to shore up her support among Democrats by encouraging a high turnout. Early Democratic primary turnout results indicate that the Democratic turnout is higher in this year's primary than the primaries of four years ago. In 2014 and 2016, Republican turnout averaged about 61 percent and Democrats about 37 percent in early and absentee votes. This year the Republican turnout rate decreased to 53 percent while Democratic turnout increased to 46 percent.
Black voters can make or break Abrams' victory. Their numbers have grown steadily over the last few decades. For example, in 1990, 27 percent of the state's population was African-American. That percentage grew to 32 percent in 2016.
Abrams must find a way to motivate black voters into turning out on Election Day, while also winning as many white and Hispanic votes as possible. This won't be easy. Black turnout has steadily declined in Georgia during the post-Obama years. In 2016, black turnout declined to 59 percent from a high of 66 percent in 2012. During the 2014 midterm elections, only 41 percent of black registered voters participated in the state's elections.
In particular, Abrams must take advantage of the power of the black female swing vote. "Black girl magic" is the term used to describe black female beauty, intellect and empowerment. African-American women have emerged as a solid bloc of reliable voters for the Democratic candidates they favor. In 2016, 94 percent of them voted for Hillary Clinton, while 53 percent of white women supported Trump.
In the 2017 Alabama U.S. Senate race, the 98 percent black female vote for Doug Jones tipped the scales of the election in his favor and allowed him to defeat Roy Moore.
The key question that remains after the euphoria over the historic significance of having a serious black female contender for governor is, "What does this mean for Donald Trump?" If Georgia elects a black female governor who has the ability to mobilize black, female, progressive, young and other minority voters, will it tip Georgia's scales from the red side to the blue side?

Sharon Austin, Associate Professor of Political Science and Director of African American Studies, University of Florida
This article is republished from The Conversation under a Creative Commons license.