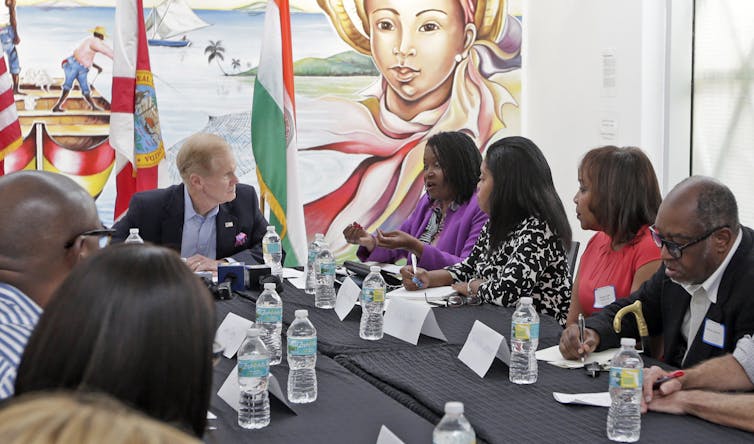 Florida's midterm Senate election is a race to watch this November – and not just because it will be a tight match pitting a sitting governor, Republican Rick Scott, against a sitting senator, Democrat Bill Nelson.
Black voters, who make up 16 percent of Florida's population, will likely help tip the race in one candidate's favor. Black Floridians have long been a swing constituency in the state and have played a key role in every close presidential race since 2000.
But my research on minority politics in the South shows that it is time to re-examine old assumptions about Florida's so-called "black vote."
The Caribbeanization of black politics
That's because not all black people in the United States are African-American.
Florida is home to the country's largest foreign-born black population. One in three black Miami metropolitan region residents today is an immigrant, according to the Pew Research Center. Many are from the Caribbean.
The black immigrant population in the U.S. has more than quadrupled since 1980, led by an influx of Haitians and Jamaicans. An estimated 376,000 Haitians represent fully 2 percent of Florida's population. Another 30,000 or so Floridians were born in Jamaica.
As my 2018 book on "The Caribbeanization of Black Politics in America" outlines, these demographic shifts are upending political patterns in predominantly black communities. U.S. political analysts have long assumed that black people mostly think alike on policy issues and vote for the same candidates – namely, for Democrats.
That's now changing.
Black Republicans
I have studied voting patterns of African-Americans, Cape Verdeans and West Indians in four cities: Boston, Chicago, Miami and New York City.
I discovered that while these populations are mostly Democratic, foreign-born black communities in all four cities are more willing than African-Americans to put aside partisan differences and vote Republican.
Haitians, in particular, lean in a more conservative direction than African-Americans and other Caribbean communities. My research found that Haitian voters in Boston, Chicago, Miami and New York City are more likely to identify as moderate or conservative than African-Americans.
Haitians are also more likely to be members of the Republican Party and to run for office as Republicans. The first and only Haitian-American in Congress, Mia Love of Utah's 4th district, is a Republican.
In Florida, almost 4 percent of the Haitian-born population is Republican, according to University of Florida political scientist Daniel Smith. Just under 20 percent of Florida's Haitian Americans are Democrats. Many others are not registered voters in the U.S., though they may remain active in Haitian politics.
Donald Trump campaigned in Miami's Little Haiti neighborhood in 2016. He went on to win 20 percent of Florida's Haitian vote.
After the election, Haitian-American activist Ezili Danto suggested that many Haitian Floridians had supported Trump in part to demonstrate that they won't always vote Democratic.
Many Haitians also believed the corruption allegations that had been leveled against the Clinton Foundation, whose work in Haiti after the 2010 earthquake left it with a bad reputation on the island.
Community tensions
As Florida's Caribbean population has boomed, these political differences have led to some showdowns between African-Americans and the Haitian community.
The election of Republican Josaphat Celestin as mayor of North Miami in 2001 is illustrative. He was the first Haitian-American elected to lead a large U.S. city.
As I outline in my book, Celestin's campaign appealed directly to Haitian voters in this municipality of 60,000, by arguing that they needed their own political representation in a largely African-American city historically governed by white elected officials.
The 2001 election brought not just Celestin to power but also put a Haitian-American majority onto the five-member city council, ushering in a new era in North Miami politics. Haitian voters had successfully replaced the city's old white political leadership with new black leadership.
But they did so by defeating a Democrat, Duke Sorey, whom most native-born black Floridians hoped would become the city's first black mayor.
Motivating black voters
All of this means that neither Florida Senate candidate should take black voters for granted in November.
Nelson, the Democratic sitting senator, has tradition on his side. Black Floridians – like African-Americans nationwide – have voted overwhelmingly Democratic in every election since 1948. In 2012, higher-than-usual black turnout for Barack Obama helped Nelson handily secure his second Senate term.
As the only Democrat in statewide office in a state dominated by Republicans, Nelson will again need above-average black turnout to beat Scott. Yet the senator recently said he believes black Floridians are already "motivated" to vote for him and has faced accusations of not courting them enough.
Meanwhile, Gov. Scott won 12 percent of black votes in 2014 – significantly more than the 8 percent of black voters Trump won nationwide in 2016.
Florida's Trinidad-born Lt. Gov. Jennifer Carroll was the first black female Republican elected to the Florida legislature and the first black Republican woman on a statewide ticket when she ran as Scott's running mate in 2010.
Scott alienates black voters
Carroll resigned in 2013 amid accusations of financial impropriety. She later wrote a book accusing Scott of treating her like an "unwanted stepchild" and using her to win black and female votes.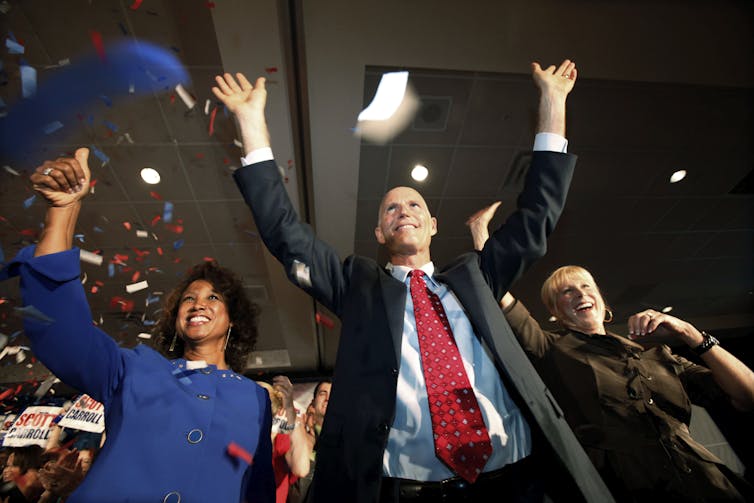 As governor, too, Scott has in fact had a very tense relationship with black Floridians.
In 2011 he reduced funding to two historically black private colleges in the state. That same year Scott requested that the president of Florida A&M University, a historically black public university, be suspended after the hazing death of a student, a decision the college's board of trustees rejected.
When students protested his recommendation, Scott suggested he could relate to them because he grew up in public housing. It was the second time the governor had insinuated that all black people are poor.
On several occasions, Scott has also been accused of suppressing black voters by making it harder for formerly incarcerated people to restore their voting rights.
I doubt Florida's Haitian voters will support Scott as they did Trump in 2016. But the days of assuming that the black vote will definitely go Democratic are over.

Sharon Austin, Associate Professor of Political Science and Director of African American Studies, University of Florida
This article is republished from The Conversation under a Creative Commons license..